Strays turn over new leaf
Jun 26, 2003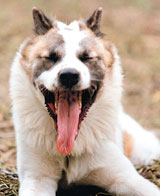 Foo, the unwanted Bangkaew
'It's the most difficult job of my life,' says a police dog-trainer. But the hard work will soon bear fruit. Twenty of Bangkok's |stray dogs are ready to complete their training as new guardians of Thailand's precious forests and wildlife
Veteran dog trainers from the Police Dog Command Department wondered whether they had bitten off more than they could chew when they accepted the task of turning a group of stray dogs into forest guardians.
Police Senior-Sergeant Major Manop Peerakham, who has worked as a dog trainer for the K-9 police division for 17 years, could not help but laugh when seeing Foo, a 2-year-old Thai Bangkaew, pay more attention to the beautiful singing of a bird instead of his gunfire.
"It's the most difficult job of my life," he said grinning.
In February, Foo and his 19 stray companions were placed in the training programme under a collaborative agreement between the Department of Natural Parks, Wildlife and Plant Varieties and the Police Dog Command Division.
But it's not only the stray dogs that Manop and his team have to train - 10 park rangers are being taught dog-handling so they can put the dogs to work effectively after they complete their course.
After four months of obedience training on the small ground of the National Parks Department, the dogs and their prospective handlers were moved to Pra Bhuddhachai National Park, Saraburi, for three days and two nights of field training.
As all of Manop's canine students were strays in Bangkok and therefore only familiar with bustling streets, the beautiful scenery of the park, the fertile forest, waterfall and lake, is an unfamiliar world to them. They are enduring a tough training schedule that begins at 5am and finishes at 10pm every day, but they will also get a chance to relax so they can explore their new world and become familiar with it.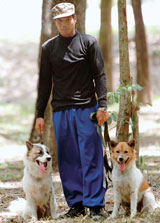 If pass the final exam, these 2 Bangkaews will work in Salakpra Wildlife Sanctuary as assistants to a park ranger.
Before going to the park, all the dogs were taught to respond perfectly to their handlers' instructions,
such as "sit", "wait" and "crouch down". The field trip is an advanced course that will train them for sniffing and tracking. However, here in the park the new environment, not the handler's commands, is attracting their attention.
White, a stray dog with a doubtful background who was number one in sniffing during the training in Bangkok, prefers to frolic with the bags laid down in front of him instead of sniffing them. His task, completely forgotten in the expansive surrounding, was to find the only bag that contained a turtle.
Several mock situations are created to make the stray dogs familiar with their future job. Turtles and snakes are being used to help the dogs identify wildlife, while some police officers from the canine division are playing the role of forest encroachers.
But Foo, instead of attacking the illegal logger, runs up to the officers with tail wagging furiously. This was something of a disappointment to his trainers who had hoped he would remember his Bangkok lessons.
Khao, another stray who used to hang around the Royal Forest Department and an area nearby on Phaholyothin Road for almost two years, however, performs the task very well. At the moment his handler says "go", Khao charges the "logger" and bites his hand which is covered with thick glove until the handler shouts "stop".
According to Manop the different backgrounds of the two dogs made the difference in this case.
Foo was not originally a stray dog, but a pedigree Thai Bangkaew who once stayed in a nice home with a kind owner. Unfortunately, because of the characteristics of the Bangkaew which was bred to be a watchdog, Foo at times turned vicious and bit neighbours. The owner had to pay thousands of baht to Foo's victims. Eventually the owner ran out of patience and gave Foo to the director general of the National Park, Wildlife and Plant Varieties Department to take part in the guard dogs programme.
Khao had always been a stray and nobody knows much about his background. Royal Forest Department officials had seen him in the department compound for two years.
"Khao has more experience with the world. He is always ready for any challenges," Manop says. However, Foo performs better on the last day of the field training programme. Manop says he just needed time to adjust to the new environment.
Turning stray dogs into useful park rangers' assistants, is quite different from training pedigree pooches for police work, says Manop, who has spent his 17 years in the police force with the Dog Command Department training alsatians.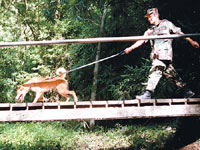 Sniffing and tracking through the forest
"Alsatians [German Shepherds] and other pedigrees are selected strains that have been bred to be trained. They have longer concentration spans and more patience in training programmes than these Thai stray dogs," he says.
The programme to turn stray dogs into forest guardians was initiated by Somchai Piensathaporn, director general of national parks. His idea follows the suggestion of His Majesty the King, who said on his birthday last year that stray dogs could be trained to assist police operations. Somchai believes stray dogs could be turned into good assistants for park rangers too.
Pratuan Saengkratok, a park ranger from Salakpra Wildlife Sanctuary in Kanchanaburi who is taking part in the handling programme, expects a dog will help him a lot while patrolling the jungle.
"At least I will have more 'eyes' to help. When they smell something strange they will warn us," he says.
For Pawang Chaivinij, from the Watershed Protection Division in Udon Thani, a dog will be an "effective weapon" in his operations. He says many park rangers do not have even a gun to protect themselves while the illegal loggers and wildlife hunters possess not only modern guns but also use dogs.
"Many times we have been bitten by those dogs. If we have our own dog at least it can fight against their dogs," he says. All 20 stray dogs will undergo their final test at the end of June, after which the successful graduates will become assistants to park rangers and carry out their mission at national parks and wildlife sanctuaries throughout the country. For those who fail, they will be able to take another course in November.
Pennapa Hongthong
THE NATION
........................................................................
Barking up the right tree
Mar 27, 2003
A pack of 20 stray dogs yesterday took their first steps in becoming the new guardians of Thailandís national forests and wildlife.
Inspired by His Majesty the King, who has spoken before about tapping the potential of Thailandís street mutts, the Department of National Forests, Wild Animals and Plants yesterday launched a scheme to train the dogs to assist forestry officials on their patrols.
The departmentís director-general, Somchai Piansathaporn, said the five-month programme, which was officially launched in February, would also involve the training of 10 forestry officials to become dog handlers.
The human students will be trained by officers from the police canine unit.
Somchai said his department would set aside a budget of Bt2 million a year to fund the canine patrols and that at least 150 teams would be needed to cover the countryís 145 national forests.
Yesterdayís opening ceremony was presided over by Plodprasop Suraswadi, permanent secretary of the Natural Resources and Environment Ministry.
He said the dogs would also be trained to search for animals so that they could help in the fight against the smuggling of wildlife at airports and ports.
........................................................................